Making a difference in peoples' lives with duty counsel work
Published: October 16, 2023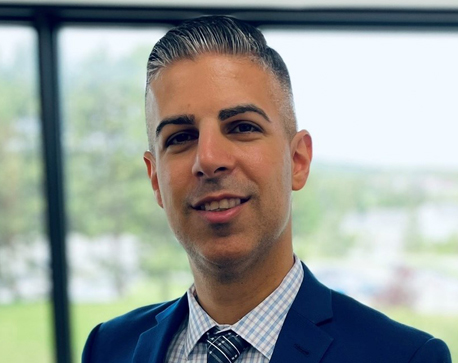 Ash Keyvani, a staff family lawyer at Legal Aid Ontario (LAO) in Newmarket, remembers a mother of two who felt stressed when her former spouse falsely accused her of committing fraud. The ex-husband alleged that she failed to report child support payments from him while she was receiving social assistance at a time when the legislation required her to report those payments.
"The ex-husband didn't want to pay child support and was trying to avoid it, so he made up a bunch of false allegations," says Ash, who handles family law matters in his duty counsel role. "We ultimately resolved the case. Not only did he not get away with paying less child support, but the client instead ended up receiving increased child support from him. She hadn't done anything wrong, and after everything she had been through, she ended up in a better position than before he commenced the proceedings. It felt good to help with that outcome."
Family law matters are often extremely stressful for LAO clients, Ash notes. "As lawyers, it's a job we trained for and do every day, but for families involved in a court case, it's a very difficult time. When we can negotiate a settlement and resolve their dispute so they can get out of the court system, it's very rewarding." 
Ash has worked at the Newmarket court for two years, and his schedule as duty counsel keeps him busy. On any given day, he is either appearing in court or providing advice through the Family Law Information Centre (FLIC). His family law work involves helping clients with domestic and child protection matters.
Domestic matters pertain to disputes between separating spouses and can include a range of issues. They can be disputes between parents over who makes major decisions for the child, the parenting time schedule, child support, spousal support, or restraining orders. Child protection matters usually involve a Children's Aid Society getting involved with a family due to child protection concerns. These cases can be very stressful for families as they often involve children being removed from their parents' care by a child protection agency.
Assessing the situation
"A lot of our time is spent assessing potential emergency matters," says Ash. "People often arrive in distress. Their partner may have run off with their children, for instance. We'll assess the situation, give them advice, prepare their documents and help them bring an emergency motion if necessary."
The best part of being a lawyer is helping people, says Ash. Interacting with clients is one of his favourite parts of the job. "You feel like you've made a difference and gotten them out of the court system so they can get on with their lives. Those are the feel-good moments in this role for me." 
Focusing on what motivates him
Ash believes his job offers a window into people's lives and their unique circumstances. "No two cases are exactly alike, and I enjoy the challenge."    
He feels that his job allows him to focus on the things that motivate him and that can make a difference for clients. He explains, "As duty counsel, the focus is on the law and helping people resolve their issues, as opposed to billable hours, for example."
Job challenges
One of the most challenging things about his job is meeting someone who doesn't qualify for legal aid services or assistance. He always finds those situations difficult, because as much as he wants to help, they don't meet the criteria.
"It's difficult when we see people who need legal representation but they don't qualify for our services. We're always worried that they could potentially fall through the cracks," Ash reflects. "They often can't afford a lawyer, but their income is above the financial threshold for duty counsel services or a certificate referral." 
The days at the FLIC office go by quickly. Ash sometimes meets with and advises up to 15 people a day.  "For clients, this may be the most stressful time in their life as they're dealing with a combination of emotions and complex legal issues. We try to support them through this."
Legal education
Ash grew up in the Greater Toronto Area, mostly in North York, and later lived in Richmond Hill. He earned an undergraduate degree in psychology at York University and then attended law school at the University of British Columbia in Vancouver.    
When he's not working, Ash enjoys a variety of activities. His favorite pastime is salsa dancing, because "it's exercise, musical and social, all at once." He also likes spending time outdoors, especially paddle boarding on lakes and rivers around Ontario.     
More about duty counsel
Ontario's duty counsel are legal aid lawyers who give free legal advice in family, criminal and immigration law cases. These dedicated, compassionate individuals support people navigating the legal process and the justice system. This is one in a series of profiles of duty counsel across Ontario. Learn more on Duty Counsel Day.