AODA Training (Free EDI CPD Credit)
Published: November 20, 2019

Updated: February 4, 2020
In addition to Legal Aid Ontario's own commitment to accessibility, LAO is required by law to be compliant with the Accessibility for Ontarians with Disabilities Act (AODA). As such, LAO has developed new policies to guide its work, available on the Accessibility page of LAO's website, found here. LAO's new AODA policies will provide LAO with the guidance to ensure that accessibility requirements are being met in all areas of our workplace and service provision. Please note that these will also replace any previous related policies at LAO.
As part of these new policies, LAO has an obligation to provide training to panel lawyers on AODA, and to track who has completed the training. LAO has also gone the extra step of having this accredited by the Law Society of Ontario so that lawyers may include this training in the EDI component of their CPD hours (see "Accreditation" below for details).
LAO is offering this AODA training to help ensure LAO materials, services and facilities are accessible to peoples with disabilities. It will also help provide a better understanding of our accessibility policies, as well as rights and responsibilities under AODA and the Ontario Human Rights Code.
Please see details below and complete the training by March 31, 2020.
About the training
There are two parts to the training detailed below and modules are available in various formats. To launch each module, follow the links.
This is a 5‑part eLearning video series (approx. 20 minutes in total) rolled into one video that will allow you to attain a certificate upon completion.

Part 2: AODA Modules:

This is offered online by AccessForward, through video and PowerPoint. The modules are available in PowerPoint and video format.

NOTE: The Transportation module is not required for LAO.
Record your training
You can record the training on Legal Aid Online by clicking on the "Personal Info" tab and selecting "View/Complete Training" under the "Training" section.
Accreditation
Please note that the AODA Training course is eligible for 1hr and 40 min EDI professionalism CPD with the Law Society of Ontario if all modules are completed.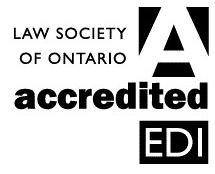 Questions
For questions on Accessibility or AODA, please contact accessibility@lao.on.ca