Ontario Ombudsman annual report summary 2018-19
Published: June 25, 2019

Posted: October 2019
The following contains information pertaining to Legal Aid Ontario included in the annual Ontario Ombudsman report released June 25, 2019.
Background
The Ombudsman is an officer of the Ontario Legislative Assembly independent of government and political parties. The office promotes fairness, accountability and transparency in the provincial public sector by resolving and investigating public complaints and systemic issues within the Ombudsman's jurisdiction.
The Ombudsman Office forwards to LAO inquiries made by members of the public about LAO. Many of these can be answered by Ombudsman Office staff and do not require further assistance from LAO. Where this is not possible, Ombudsman Office early resolutions officers and investigators work with LAO's Complaints Department to resolve individual cases.
In November 2018, the government expanded the Ombudsman's mandate to include complaints about French Language Services and Provincial Advocate for Children and Youth investigations.
Details
For the 2018‑19 fiscal year, inquiries pertaining to LAO accounted for 0.5% of cases received by the Ombudsman (125 out of 27,419).
The chart below compares the number of inquiries recorded by the Ombudsman's Office compared to the number recorded by LAO.
Many of the inquiries were resolved by the Office of the Ombudsman, drawing on their database of LAO policies and procedures.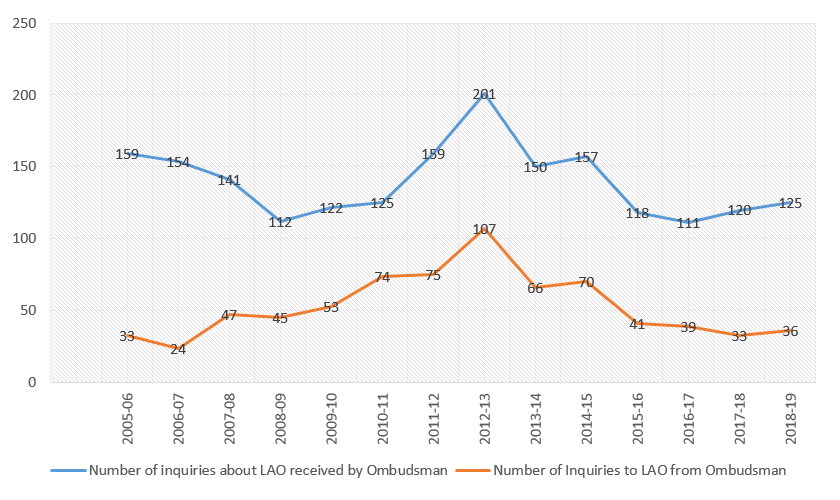 Complaints against LAO and legal clinics constituted 12% of all complaints against agencies reporting to the Ministry of the Attorney General (MAG) even though LAO represented approximately 70% of the agency funding allocated by MAG.
The annual report detailed two such complaints and how they were handled by the Ombudsman and LAO:
A client's lawyer stepped down on the first day of trial, leaving him unrepresented. The client was convicted, and wanted LAO to provide a new lawyer to represent him for sentencing, but he said he received no response to his request. Ombudsman Ontario inquiries showed that LAO had sent the client a denial letter at a detention centre, however, he was no longer being held there. Following the Ombudsman's inquiry, the client contacted LAO, and submitted his appeal.

A client sought the Ombudsman's help after she received a letter from LAO denying her request to change solicitors and referring her to another program. That program then told her the referral was made in error. Following the Ombudsman's inquiry, LAO agreed to review its process to ensure that only appropriate referrals are provided.