Office of the Ombudsman of Ontario annual report summary 2017‑18
Published: June 27, 2018

The following summary contains information pertaining to Legal Aid Ontario in the annual report from the Office of the Ombudsman of Ontario. This report was released on June 27, 2018.
Posted: November 2018
Updated: March 2019
Background
The Ombudsman's Office was established in 1975 to help Ontarians resolve problems with provincial government services and administration. LAO receives inquiries from the Ombudsman's early resolution officers on behalf of members of the public. Many of the inquiries received by the Ombudsman's Office are questions that can be answered by frontline staff and do not require any assistance from LAO. The Ombudsman's operations section where early resolution officers and investigators work, focuses on resolving individual cases. Cases that cannot be informally resolved are referred for formal investigation, while others are brought to the attention of senior government officials and addressed.
The Ombudsman's Office oversees more than 1,000 public sector bodies, comprising more than 500 Ontario government ministries, programs, agencies, boards, commissions, corporations and tribunals, as well as 444 municipalities, 72 school boards, 10 school authorities and 21 universities.
Details
For the 2017‑18 fiscal year, it should be noted that inquiries pertaining to LAO accounted for only 0.6% of all cases received by the Ombudsman. The chart below compares the numbers recorded by the Ombudsman as compared to the number of contacts recorded by LAO. We find it encouraging that many of the inquiries can be resolved by the Office of the Ombudsman using their knowledge about LAO. Over the years, we have established a good working relationship with this office and they have developed a comprehensive database of LAO's policies and procedures.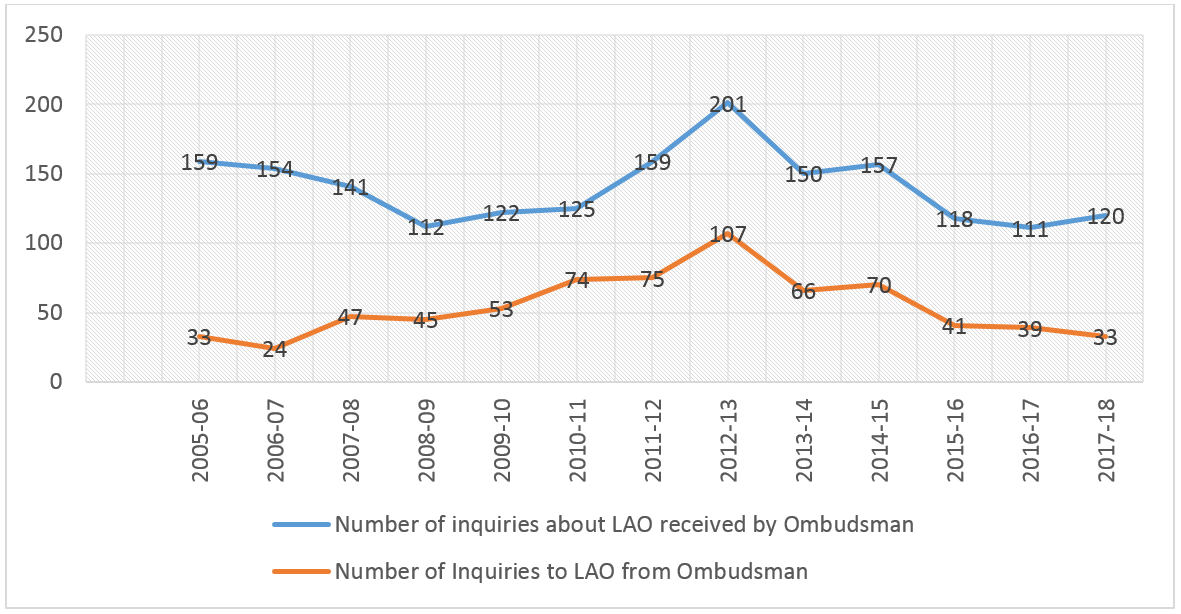 LAO was not among the top‑10 provincial government organizations and programs complained about to the Office of the Ombudsman during 2017‑18. For context, the following depicts the breakdown of the 832 complaints pertaining to the Ministry of the Attorney General (MAG):
| Agency | Complaints |
| --- | --- |
| Children's Lawyer | 33 |
| Court Administration | 54 |
| Environment and Land Tribunals Ontario | 27 |
| Human Rights Legal Support Centre | 12 |
| Legal Aid Clinic | 12 |
| Legal Aid Ontario | 120 |
| Office of the Public Guardian and Trustee | 182 |
| Safety, Licensing Appeals and Standards Tribunals Ontario | 18 |
| Social Justice Tribunals Ontario | 269 |
As a point of comparison, the 2017‑18 business plan for our major funder, the Ministry of the Attorney General, shows that the contributions by MAG to the Social Justice Tribunals of Ontario are one‑fifth that of LAO, but the complaints received by the Ombudsman's Office for that agency are more than twice that of those pertaining to LAO. The Ombudsman's Office identified that the most common complaints involved disagreement or dissatisfaction with decisions made by LAO about eligibility for legal aid, poor communication or service.
The annual report detailed three of their interactions with our organization:
A 17‑year‑old youth with cerebral palsy required legal assistance in seeking financial support from his parents. He needed to appeal the cancellation of his legal aid certificate before an upcoming court submission deadline. Our Office contacted LAO and as a result, it convened a special committee meeting to review the teen's appeal, where his certificate was reinstated.
Our inquiries in another case prompted LAO to improve its training for staff who handle complex legal documents. We were initially told LAO could waive the costs that a man was ordered to pay at the end of a lengthy family law dispute, since lawyers on both sides were obtained through LAO, and the man was facing financial hardship. But almost six months later, LAO discovered its staff had made an error and it could not waive the man's costs. After our staff inquired, LAO provided him with a thorough explanation and committed to additional training for its staff.
We helped a woman from Manitoba who had struggled for six months to get Legal Aid Ontario to recognize her approval for legal aid in a custody case in Ontario. After we contacted LAO, its staff acknowledged the delay, reviewed the woman's file and granted her a legal aid certificate.
Conclusion
We will continue to enhance our relationship with the Office of the Ombudsman and use inquiries to identify possible gaps in our policies and procedures.